Ocean Socks
! Yay they are done, and not too bad a job if I say so myself!! (modeled by DD as the pictures do come out better...only problem is..well she can wear them too!) Done mainly for the
Mystery Sock KAL
where you knit a sock without a picture! It was a little difficult at the start as I stated before, and the second one didn't want to go too smoothly in the midpart...guess I was too excited to get done in time for the
Sock a Month KAL2
September sock! (which I did, Yay!) Thanks again to my pal
Cpurl
for helping me out when I needed it!
Yarn is the Storm Colorway from
Heather
in a light sportweight I think. It knit really nice (well when I didn't have to tink quite a bit on the last one LOL!!) Used my Brittany size 3 dpns. They fit well and are pretty comfy.
So, now to
Socktoberfest
socks! I hope to knit a cabled pair, Anastasia socks, and possibly another pair. All socks all the time LOL! (well probably not) I'd love to knit at least 2 pairs we shall see.
OK! Now for the Knitty Blogstalking assignment. I didn't do last weeks, as well, we get our movies from Netflix and have a small amount...so..oh well!
Take a picture of your oldest UFO!!! and here it is! The Scoop du Jour from Chic Knits, which I started in July 05! It isn't a hard project, I just got distracted by so many other things (one being the knittyboards LOL!)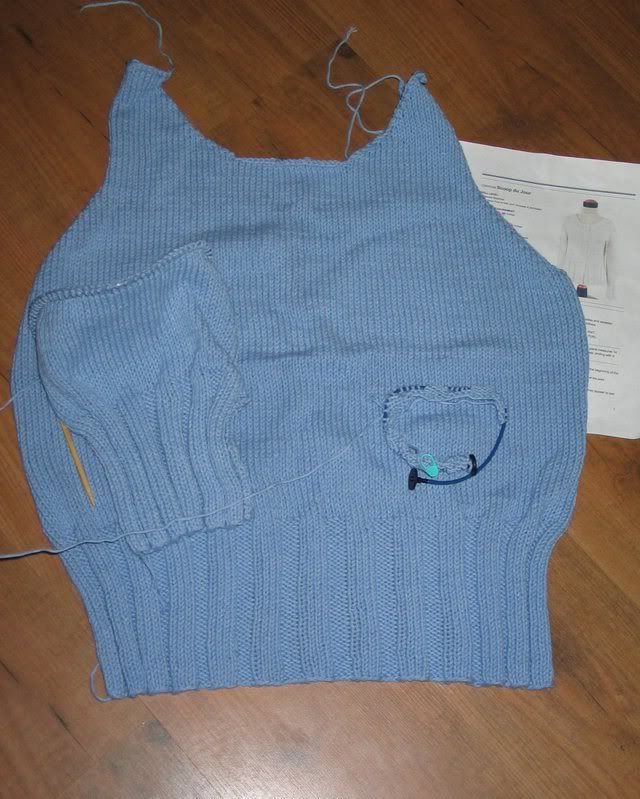 Cottonease in Ice Blue, you can see the back and the left front 1/2 way done on the left and the tiny, tiny start of the right front. Just need to finish it..soon I will...this is my first sweater and it's not done...hmmmm. I have a project that is 2 months younger than this....but another time for that! Have a great weekend!